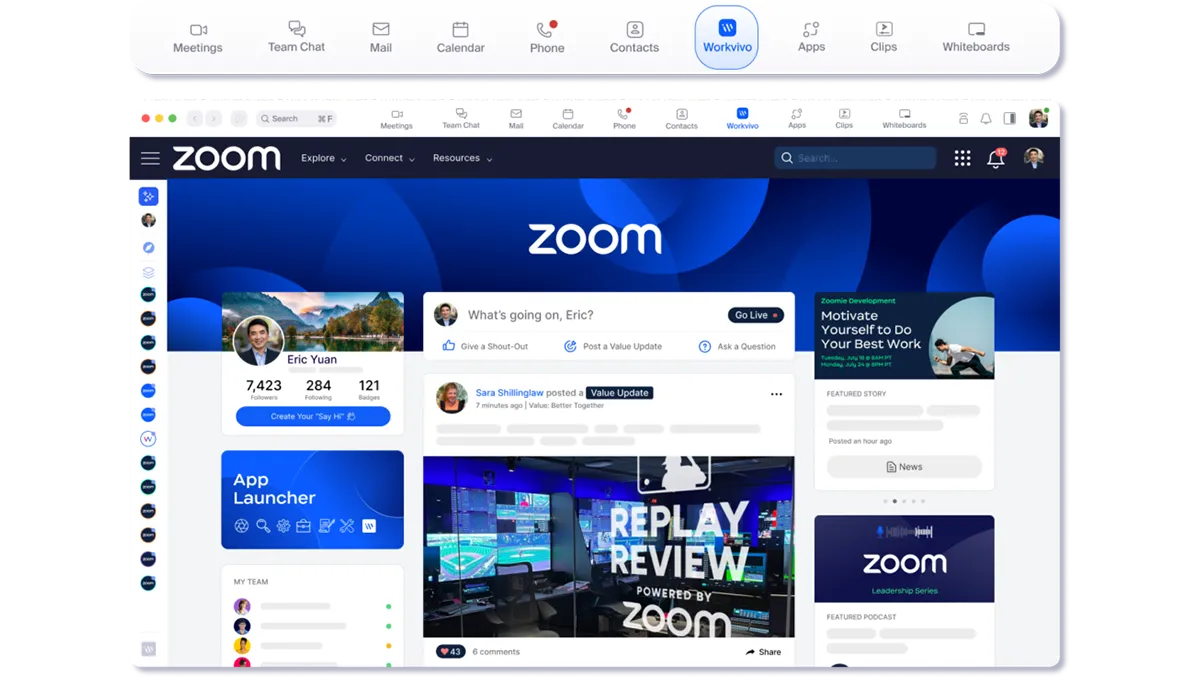 Zoom reveals future plans for hybrid work innovations at Zoomtopia Keynote
Thu, 5th Oct 2023
By Sean Mitchell, Publisher
Zoom, a leading intelligent collaboration platform, has today shared its future plans for Hybrid Work innovations. The announcement was made during the keynote presentation at Zoomtopia.
New additions include an integration with the employee engagement and communications solution, Workvivo, which Zoom recently acquired. This integration allows users to have direct engagement with colleagues via Zoom. The service will be available on the Zoom desktop client in the coming weeks, making it easier for users to start a Team Chat or schedule a Meeting. It is expected to result in more streamlined communication and enhanced collaboration among teams.
Another major update involves the Workspace Reservation. A new feature called Wayfinding, expected to launch next year, will provide users with a map to the seats they've reserved. The tool is geared towards helping users easily locate their workspace, especially in an unfamiliar office location, using their mobile device.
A series of upgrades to Zoom's platform are expected to tackle the obstacles posed by hybrid work environments. These include Name Tags, a feature that displays an individual's name during meetings and is expected to launch in 2024; Dynamic Layouts for Zoom Rooms, a feature that allows viewers see active participants dynamically and is expected to be available from December 2023; and Companion Zoom Rooms for added functionality and should be generally available in 2024.
Additionally, Zoom plans to introduce Visitor Management, a tool for managing and checking in visitors at office locations. Expected to be generally available in December 2023, this feature will help employers streamline the process of inviting and managing visitors at their facilities. Meanwhile, Workspace Dashboard, which will aid in space planning and hybrid schedules, is set to launch in 2024.
"Hybrid work has evolved, and Zoom's collaboration platform is evolving with it. Zoom customers will be able to adapt their businesses and tackle the challenges of hybrid work, while engaging their employees and strengthening their culture," Smita Hashim, Chief Product Officer at Zoom, said.
To make meetings more productive, Zoom is enhancing its Meetings tab. The tab will act as a central hub for a user's entire meeting journey, aiding in efficient planning and execution of meetings. The Meetings tab will integrate Calendar, Scheduler, and Notes for optimal collaboration. Zoom Mesh, a tool aimed at reducing bandwidth usage when employees come into the office, is expected to launch in 2024.
The Zoom Scheduler, another work-management tool, will see new features, such as the incorporation of single-use booking links, customised booking page logos, and multiple-account support. Provisions will be made for executive assistants or other support members to book meetings for others and for easy integration of Scheduler with Salesforce.
Intelligent Director, a new feature aimed at enhancing conference room experiences, is already available. It uses multiple cameras to provide the best visual angle in Zoom Meetings and supports two or three cameras.
The concept of hybrid work involves flexibility in operating from different geographic locations. Zoom's new updates are expected to facilitate this, making connections easier, more immersive, and dynamic for businesses and individuals.